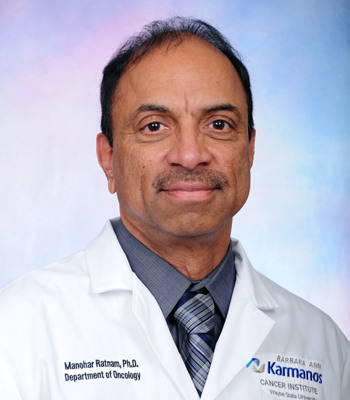 Manohar Ratnam
Position Title
Professor
Basic Science
Office Location
Karmanos Cancer Institute
4100 John R.
HWCRC, Room 840.1
Mail Code: HW08AO
Detroit, MI 48201
Office Phone
(313) 576-8612
Office Fax
(313) 576-8299
Education Training
Education
(1983)  Ph.D. Biochemistry, Indian Institute of Science, Bangalore, India
(1978)  M.Sc. Bio-Sciences, University of Mysore, India
(1976)  B.Sc. Majored with Distinction in Chemistry and Biology, University of Mysore, India
Postgraduate Training
(1994-1985)  Research Fellowship, Muscular Dystrophy Association
(1983-1985)  Postdoctoral Fellow, Receptor Biology Laboratory, Salk Institute, San Diego, CA
Professional Experience
Faculty Appointments
(2012-Present)  Professor, Wayne State University, Department of Oncology, Detroit, MI
(2012-Present)  Member, Karmanos Cancer Institute, Detroit, MI
Honors and Awards
 (2000)  Medical College of Ohio Research Award (instituted in 1999)
Courses taught
CB 7210: Fundamentals of Cancer Biology
CB 7220: Molecular Biology of Cancer Development
CB 7240: Cancer Chemotherapy
CB 7300 F31: Special Topics in Cancer Biology - Grant Writing
CB 7700: Cancer Biology Journal Club
CB 7890: Seminars in Cancer Biology
Research Interests
The specific disease focus of my current research includes: (i) Improvement  in breast cancer adjuvant therapy (ii) Early detection of breast and ovarian cancer (iii) New approaches to treating proliferative disorders of the prostate (iv) Molecular approaches to targeted drug delivery in acute myelogenous leukemia.
In recent years, we have discovered non-classical mechanisms of transcriptional regulation of genes by the nuclear receptor superfamily, including various steroid receptors and the retinoic acid receptor. The new findings have found broad implications in global gene regulation mechanisms and in the mechanism-based treatment of different cancers including breast cancer, ovarian cancer, prostate cancer and myelogenous leukemias. Our recent studies have shed new light on mechanisms underlying the progression of breast and prostate cancers and have identified possible ways of improving upon current therapies. In the foreseeable future, my laboratory's broad research interests will continue to expand into the molecular endocrinology of nuclear receptors while continuing to pursue our previous advanced studies of folate receptor-targeted therapeutics (see below).
In previous years, my laboratory pioneered the discovery and characterization of the folate receptor gene family and helped to establish the potential utility of FR isoforms in the targeted therapy of various types of cancer as well as inflammatory diseases. Those studies involved detailed investigations of structure-function and gene regulation of FRs. Our contributions to the field have supported more recent advances in the clinical arena where an explosion of various types of folate drug conjugates, immunotherapies, novel antifolates and nanoparticles are showing great promise as therapeutics for cancer and inflammatory diseases. We are now at a stage in which our additional ideas on the potential utility of FRs as serum markers for the early detection of ovarian, endometrial and breast cancers must be investigated in clinical studies.
Publications
1.  Zhang, J., Gonit, M., Salazar, M.D., Shatnawi, A., Shemshedini, L., Trumbly, R. and Ratnam, M. (2010) C/EBPalpha redirects androgen receptor signaling through a unique bimodal interaction. Oncogene 29:723-738.
2. Sivakumaran, S., Zhang, J., Kelly, K.M., Gonit, M., Hao, H. and Ratnam, M. (2010) Androgen Activation of the Folate Receptor α Gene through Partial Tethering of the Androgen Receptor by C/EBP α. J Steroid Biochem Mol Biol 122:333-40.
 
3. Gonit, M., Zhang, J., dAlincourt-Salazar, M, Shatnawi, A., Trumbly, M. and Ratnam, M.(2011) Hormone depletion-insensitivity of prostate cancer cells is supported by the AR without binding to classical response elements. Mol Endocrinol 25:621-34.
4.  Salazar, M.D., Ratnam, M., Patki, M., Kisovic, I., Trumbly, R., Mohamed, I and Ratnam, M.(2011) During Hormone Depletion or Tamoxifen Treatment of Breast Cancer Cells the Estrogen Receptor Apoprotein Supports Cell Cycling through the RARα1 Apoprotein. Breast Cancer Res 13(1):R18. 
5. Gonit, M., Salazar, M.D., Zhang, J., Elnakat, H., Sivakumaran, S. and Ratnam, M. (2011) Hormonal Control of Folate Receptor Genes in Targeted Drug Strategies for Cancer and Inflammation. Targeted Drug Strategies for Cancer and InflammationJackman, A and Leamon, C., eds. Springer Science+Business Media, LLC. Chapter 3, Pages 49-63
6.  Ratnam, M.,Patki, M., Gonit, M. and Trumbly, R. (2013) Mechanisms of ARE-independent Gene Activation by the Androgen Receptor in Prostate Cancer Cells: potential targets for better intervention strategies inAndrogen-Responsive Genes in Prostate Cancer: Regulation, Function and Clinical Applications (Zhou Wang, Editor); Springer New York Heidelberg Dordrecht London 13.
7. Patki, M., Chari, V., Sivakumaran, S., Gonit, M., Trumbly, R., and Ratnam, M. (2013) The ETS Domain Transcription Factor ELK1 Directs a Critical Component of Growth Signaling by the Androgen Receptor in Prostate Cancer Cells. J Biol Chem 288:11047-11065.
8. Wibow, A.S., Singh, M., Reeder, K.M., Carter, J.J., Kovach, A.R., Meng, W., Ratnam, M., Zhang, F. and Dann III (2013) Structures of Human Folate Receptors Reveal Biological Trafficking States and Diversity in Folate and Antifolate Recognition. Proc Natl Acad Sci (USA) 110:15180-15188.
9. Shen, M., Zhang, Z., Ratnam, M. and Dou Q.P. (2014) The Interplay of AMP-activated Protein Kinase and Androgen Receptor in Prostate Cancer Cells. Journal of Cellular Physiology 229:688-695.
10. Patki, M., Gadgeel, S., Huang, Y., McFall, T., Shields, A.F., Matherly, L.H., Bepler, G. and Ratnam, M. (2014) Glucocorticoid Receptor Status is a Principal Determinant of Variability in the Sensitivity of Non-Small Cell Lung Cancer Cells to Pemetrexed. J Thoracic Oncol 9:519-526.
Faculty Status
Basic Science