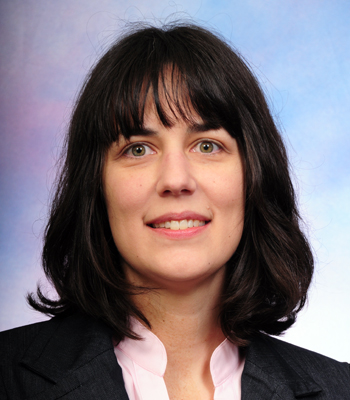 Aliccia Bollig-Fischer
Position Title
Assistant Professor
Basic Science
Office Location
Karmanos Cancer Institute
Hudson-Webber Cancer Research Center - 608
4100 John R.
Detroit, MI
Mailing Address
Karmanos Cancer Institute
4100 John R.
Mail Code: HW06AO
Detroit, MI
Office Phone
313-576-8163
Education Training
Education
(2003)  PhD, Human Physiology and Molecular Biology, Department of Physiology, Michigan State University, East Lansing, MI
(1995)  BS Biology and BA Chemistry, Departments of Biology and Chemistry, St. Cloud State University, St. Cloud, MN
Postgraduate Training
(2008-2011)  Research Associate, National Oncogenomics and Molecular Imaging Center, Karmanos Cancer Institute, Detroit, MI
(2004-2007)  Post-doctoral fellow, Department of Pathology, Wayne State University, Detroit, MI
Professional Experience
Faculty Appointments
(2011-Present) Assistant Professor, Department of Oncology, Wayne State University School of Medicine, Detroit, MI
Hospital or Other Professional Appointments
(2012-Present) Karmanos Cancer Institute Molecular Therapeutics Program Member
(2011-Present) Karmanos Cancer Institute Genomics Core, Clinical Consultant and Associate Director
(2011-Present) Director, Karmanos Cancer Institute shRNA library shared resource
Major Professional Societies
(2013-Present)  International Standards for Cytogenomic Arrays Consortium, Member
(2012-Present)  Cancer Cytogenomics Microarray Consortium, Member
(2012-Present)  American Association for Cancer Research, Full Member
(1995-Present)  Phi Lambda Upsilon National Honorary Chemical Society, Invited Member
(2007-2012)  American Association for Cancer Research, Associate member
Honors and Awards
(2018) Invited panel member for Special Session on Prostate Cancer Race Disparities, American Association for Cancer Research (AACR) Annual meeting, Chicago, IL.
(2018) Corresponding author for an article named in the Top 100 Scientific Reports Oncology papers in 2017. https://www.nature.com/articles/srep44125
(2018) Competitive WSU GRA (1 year graduate student funding)
(2017) Corresponding author for an article (1 of 12) in the Must-Read Cancer Health Disparities Research Collection. Selected by the American Association for Cancer Research and Cancer Epidemiology Biomarkers and Prevention Journal, http://cebp.aacrjournals.org/disparities
(2017) Believe Foundation Award ($50,000 toward research)
(2016) Wayne State University School of Medicine Teaching Award
(2015) Jack Ryan Award, Wayne State University School of Medicine recognizing research of high importance
(1996) Michigan State University College of Natural Sciences Fellowship
Courses taught
CB 7240: Cancer Chemotherapy
CB 7300 F31- Special Topics in Cancer Biology - Grant Writing
CB 7990: Technologies in Cancer Research
BMS 7880: Special Projects in Medical Science
Research Interests
Mapping oncogenes and oncogenic signaling networks to advance cancer therapeutics
Great inroads have been made in recent decades to treat cancer, particularly surrounding targeted treatments that offer the advantages of greater efficacy and reduced side effects over conventional chemotherapy. However, the prevalence of de novo and developed resistance to current therapies is evidence of a lack of understanding of the mechanisms driving cancer. My laboratory works to improve understanding of cancer mechanisms using integrated approaches and multiple platforms to explore the molecular make-up of cancers. Methods of molecular biology, functional genomics and innovative bioinformatics are employed in my laboratory to study oncogene activation, signal transduction and gene expression features important to cancer that may be exploited as biomarkers or used in developing new targeted therapies against cancer. Furthermore, my laboratory has broad experience in cell culture methods and cell line maintenance; and in functional studies that employ techniques to engineer gene knock-down or overexpression to study the consequences of aberrant gene expression or mutation on cancer phenotypes. All of my laboratories research efforts are designed to meet the objective to improve and expand options for molecularly targeted cancer therapies and discover reliable biomarkers of efficacy. Recent work has led to innovative studies and results surrounding the role of signaling impacted by reactive oxygen species and 5-hydroxymethyl-cytosine in promoting breast cancer. My laboratory is contiguous with the Karmanos Cancer Institute Genomics Core Facility where I am Associate Director, and where state-of-the-art technologies for functional genomic, epigenomic and transcriptome research are maintained.
Publications
Bollig-Fischer A, Marchetti L, Mitrea C, Wu J, Kruger A, Manca V, Draghici S.Modeling time-dependent transcription effects of HER2 oncogene and discovery of a role for E2F2 in breast cancer cell-matrix adhesion. Bioinformatics, in press June 2014.
Powell IJ, Bollig-Fischer A.

Minireview: the molecular and genomic basis for prostate cancer health disparities.

Mol Endocrinol. 2013 Jun;27(6):879-91. doi: 10.1210/me.2013-1039. Epub 2013 Apr 22.
 Powell IJ, Dyson G, Land S, Ruterbusch J, Bock CH, Lenk S, Herawi M, Everson R, Giroux CN, Schwartz AG, Bollig-Fischer, A. Genes associated with prostate cancer are differentially expressed in African American and European American men. Cancer Epidemiology Biomarkers & Prevention, 22(5), 891-897, 2013. Article was highlighted  on the cover of the journal

  

Bollig-Fischer A, Dewey TG, Ethier SP. Oncogene activation induces metabolic transformation resulting in insulin-independence in human breast cancer cells. PLoS One 6(3):e17959, 2011.

  

Bollig-Fischer A, Dziubinski M, Boyer A, Haddad R, Giroux CN, Ethier SP. HER-2 signaling, acquisition of growth factor independence, and regulation of biological networks associated with cell transformation. Cancer Res. 70:7862-7873, 2010.  
Article was recommended by the Faculty of 1000.
Faculty Status
Basic Science